The Official Ice Cream of the New York Yankees
Turkey Hill Dairy and the New York Yankees team up to create the official Yankees ice cream flavor!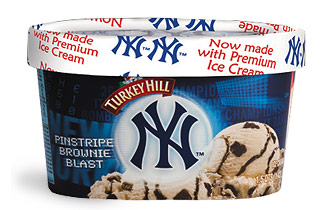 The Yankees are rich in history and tradition. So is Turkey Hill Dairy. That's why Turkey Hill is the perfect roster addition as the makers of the team's new official ice cream flavor, Pinstripe Brownie Blast (available at stores throughout the New York area).
Pinstripe Brownie Blast is Vanilla Premium Ice Cream with a delicious blend of brownies and brownie batter swirl.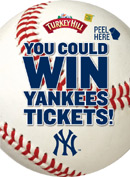 The description alone should be enough to make you want a big bowl of each, but if you need more incentive, we should tell you that you could win tickets to see the Yankees play at Yankee Stadium with each purchase of either flavor. Just find the code on specially-marked containers of Pinstripe Brownie Blast, and enter it online in our Turkey Hill Yankees Tickets Sweepstakes. Throughout the season, we'll give away free tickets to Yankees home games to more than 80 winners, and a grand prize that consists of 4 regular season game tickets, as well as a special Yankee alumni dinner!
The 2015 Winner — Kea Magnuson of Southold, NY!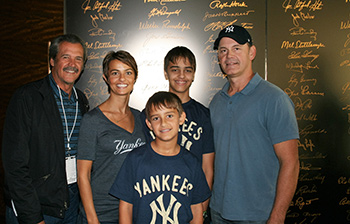 Southold, New York, resident Kea Magnuson and her husband had only been to a few Major League Baseball games. Her sons Ethan, 12, and Hunter, 10, had never been to a game. But when Magnuson stopped by her local Long Island grocery store to purchase a container of Turkey Hill Dairy's Pinstripe Brownie Blast, little did she know that it would win her family four seats at a Yankees game and dinner with a New York Yankees legend.
The day featured an unforgettable highlight before the game when the Magnusons dined at Yankee Stadium restaurant NYY Steak with Yankees legend Ron Guidry. "I only entered the contest once, and it was because my son, Ethan, kept insisting that I enter," said Magnuson, who admitted that she "never wins anything."