A few photos. A few memories.
Our ancestors, Frederick Benedict Frey and Alice Forrey Frey.

Great-Grandpa Frey used to make us ice cream with fresh strawberries for Sunday dessert. Any extra we had, we'd share with our neighbors. Who knew then just how big our "neighborhood" would become?

He started as a 6-year-old milkman.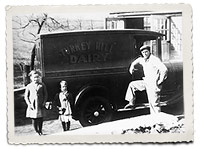 John Frey still recalls the days when he would sit on an old milk crate in the truck as his father made deliveries. John himself retired after 49 years behind the wheel as a Turkey Hill milkman and driver. His work ethic and friendly disposition have made a long-lasting impression on us all.

From a touring sedan to a fleet of 18-wheelers.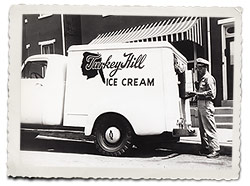 Well over 75 years ago, Armor Frey made his first deliveries with his own touring sedan. Over the years, our customers have seen an evolution of delivery trucks. And along the way, there has been a few stories with our trucks. In 1955, truck number 8 took an unguided trip into the pond out back. The damage? A couple of fences and one pint of milk. Today, we have over 150 trucks delivering our products all over the country.