More than just a name. A place rich in history.
Located in the rich farming country of Lancaster County's Manor Township, Turkey Hill Dairy owes its unusual name to the Susquehannock Native Americans who lived along the Susquehanna River flatlands just north of the ridge where the dairy is located.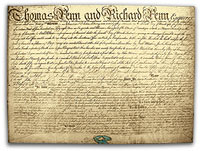 This ridge rises out of the river valley to form a prominent landmark which the Susquehannocks named Turkey Hill for its reputation as a natural hunting ground. As was often the case, early settlers adopted the natives' name for the area.
A sheepskin deed from the dairy's archive is penned by one of William Penn's sons, and refers to the ridge on which the dairy now stands as "Turkeyhill".