The right iced tea can complement your meal.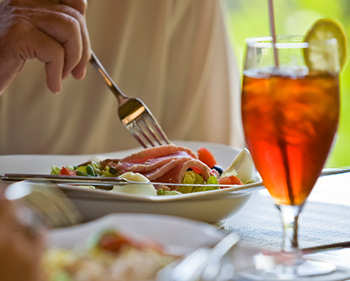 It's true! Just as certain wines can be matched with certain foods, the same is true of pairing iced tea with your favorite meals.
But before you start worrying whether that gallon of Peach Tea you just bought will clash with the meatloaf you're making tomorrow night, remember this tidbit from Turkey Hill's Head Brewmaster, Tom Wright: "Like matching wine and food, the iced tea rules aren't an exact science and it's really just a matter of personal preference, but there are a few general guidelines you might want to consider during your next barbecue or picnic."
Choose a tea that won't overpower the food or be overpowered by the food. Tom calls this "matching weights."
Tom's Tip: "A heavy, sweet Raspberry Tea would not go well with a light potato salad or grilled fish. Instead, balance those dishes with a zesty Lemonade or Peach Tea, with their seamless and elegant finish. For a big cheeseburger or a steak, I'd choose the full-bodied Green Tea Mango, with its rich and plush fruit flavor or maybe even a more robust Decaffeinated Tea."
Chicken and pasta are neutral foods that pair well with most teas, but the sauces will make the difference when selecting the right beverage.
Tom's Tip: "Choose a richer, fuller-bodied tea like Turkey Hill's Sweet Tea for heavy, meaty sauces. With lighter, cream-based sauces, try a drier option like Green Tea."
With snacks, personal preference is the rule.
Tom's Tip: "This is where it gets tricky. There are so many variances in saltiness, sweetness and texture with most snacks that it makes choosing the right tea a little challenging. Just trust your gut and chances are you'll be okay."
When in doubt, go with regular iced tea.
Tom's Tip: "Turkey Hill's time-tested iced tea is a very balanced, middle-ground beverage that seems to pair well with just about any food. Also consider most diet teas, which tend to be drier and slightly less sweet, as other neutral options."
With desserts, try a complementary or contrasting flavor and choose the rule that suits your taste buds.
Tom's Tip: "Some people might prefer to balance a sweet dessert with a sweet tea, while others will contrast it with a drier tea. Like a lot of match-ups, it can go either way, but it's up to you to decide which direction suits your taste."
Take a look at our Iced Tea and Food Pairing Chart.
Still not sure which tea goes with which menu item? Don't worry. It should help you get the most out of your next meal.
Turkey Hill Iced Tea Flavor
Characteristics
Suggested Pairings
Regular Iced Tea
Medium-bodied, moderately sweet neutral tea with a smooth texture and finish.
The ultimate beverage for just about any dish. Pairs well with almost everything.
Diet Iced Tea


(and most other diet teas)

Depending on the base flavor, most diet teas offer a neutral sweetness.
Also goes with almost anything. Some trial with other diet options may be required for best results.
Green Tea
A honey tea with an understated flavor intensity and a lighterbody.
Pairs well with spicy foods. Also with chicken, pork or fish with mild sauces.
Green Tea Mango
The mango addition gives this tea moderate depth and elegance with lovely fruit nose.
Serve with chicken, pork or fish with mild to heavy sauces or fruit and pasta of all kinds.
Lemonade Tea
The citrus elements here make this tea sweet but also firm and light-bodied.
Works well with spicy foods, including Asian and Indian cuisine, and seafood.
Orange Tea
Another sweet citrus tea, but with slightly more body and a softer texture.
Try with salty foods and fresh fruit. Some mild beef offerings also fit here.
Peach Tea
Delicious peach note gently enfolded in a well-balanced tea.
Pair with beef, lamb and veal. Also works well with salty snacks and most pizzas.
Raspberry Tea
An outsized tea that finishes well with a lively nose of fresh raspberries.
Desserts and beef are suitable pairings. Try with buttery seafood such as lobster and shrimp.
Sweet Tea
This is a big tea with a full body and a lot of depth.
Salty foods and desserts both complement this tea. Also try with a cheeseburger or steak.