Contact Turkey Hill Dairy
In addition to filling out the form below, you can contact Turkey Hill by phone
at 800 MY DAIRY (800 693-2479), or by mail at 2601 River Road, Conestoga, PA 17516.
As good as our products are, we always feel we can make them better. Same goes for our Web site. Please let us know what you think.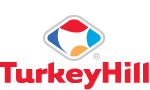 (opens new window)Turkey Hill Dairy is not affiliated with Turkey Hill Minit Markets, and the companies are under separate ownership. If you have a question or comment about Turkey Hill Minit Markets, please call 1-888-200-6211 or visit minitmarkets.com(opens new window).