21st Annual Country Classic
May 2, 2020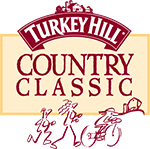 SPECIAL ANNOUNCEMENT: FOR THE SAFETY OF OUR VOLUNTEERS, OUR LOCAL COMMUNITY, AND PARTICIPANTS, WE HAVE DECIDED TO FOLLOW THE GUIDELINES SET FORTH BY STATE HEALTH OFFICIALS AND THE CENTER FOR DISEASE CONTROL AND POSTPONE OUR ANNUAL EVENT UNTIL 2021.
Bring the whole family for an entire day of fun and entertainment. In addition to all the races, there will be youth fun runs, a baby derby, bounce house, obstacle course, prizes, the Turkey Hill Giant Cow, and of course, plenty of Turkey Hill Ice Cream and Iced Tea!
This family friendly event, held at Central Manor Church, 387 Penn Street, Washington Boro, PA, features a:
5K Run, Jog and Walk
10K Run
Half Marathon
Bike Races
Youth Run
We hope you will join us for a fun-filled day.
Meet our Beneficiary.

We welcome back the Lancaster Farmland Trust as our beneficiary partner. The Trust was founded in 1988 by local citizens concerned about our unique Lancaster County heritage and dedicated to protecting agriculture from the growing pressures of development. Since 1988, The Trust has preserved 476 farms and over 29,014 acres of the richest agricultural soils in the country located here in the heart of Lancaster County. The Turkey Hill Country Classic has raised close to $120,000 for the Trust. Hope you will join us in supporting farmland preservation.