For Immediate Release
Contact: David Shoffner
C: (717) 234-8886 ext. 154
C: (717) 525-0055
Pumpkin Spice Overload? As Fall Flavors Take Over Store Shelves, One Option Emerges As A Favorite
Turkey Hill Pumpkin Pie Ice Cream to be in stores October through December
LANCASTER COUNTY, Pa. (September 5, 2016) — In a season that includes pumpkin-spiced sausage, pumpkin-spiced pasta sauce, and even pumpkin-spiced hand soap, it's easy to understand why fans of the popular fall flavor might be getting a little pumpkin-spice overwhelmed.
Turkey Hill Dairy understands that, which is why you won't see a pumpkin-spiced iced tea from the Lancaster, Pennsylvania-based dairy anytime soon. It's also why the company's classic take on the trend — Pumpkin Pie Ice Cream — is among the brand's top-selling Limited Edition flavors.
"When we first made Pumpkin Pie Ice Cream, the pumpkin flavor trend was still relatively new and confined mostly to desserts," said Turkey Hill President John Cox. "Since then, it's expanded into other areas. But if fan feedback to this flavor is any indication, desserts are definitely where pumpkin fits best."
The annual offering is described as pumpkin-flavored ice cream with a cinnamon graham cracker swirl. It's been among Turkey Hill's most popular Limited Edition options since its first appearance in the line-up in 2012.
Pumpkin Pie Ice Cream will be available October through December (while supplies last) at select grocers and convenience stores where Turkey Hill products are sold. For more information, visit www.turkeyhill.com.
EDITOR'S NOTE: For a high-resolution version of the image below, please email David Shoffner at [email protected].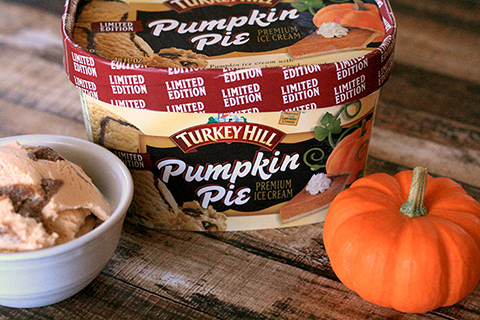 # # #