For Immediate Release
Contact: David Shoffner
C: (717) 234-8886 ext. 154
C: (717) 525-0055
It's Beginning To Taste A Lot Like Christmas: Egg Nog Recipes Showcase Versatility Of Seasonal Classic
Turkey Hill Dairy's classic egg nog returns to holiday line-up
LANCASTER COUNTY, Pa. (December 1, 2016) — Move over, pumpkin spice. There's a new seasonal flavor in town, and its use as a festive recipe ingredient is quickly becoming the stuff of holiday legend.
Turkey Hill Dairy's Egg Nog has arrived on shelves — along with popular Egg Nog Ice Cream — and fans have discovered that the yuletide drink is good for a lot more than just sipping while roasting chestnuts on an open fire. To prove it, Turkey Hill has partnered with Lancaster County blogger and culinary whiz, Ann Fulton, who will put egg nog to the test in a series of holiday recipes.
"As an ingredient, egg nog is incredibly versatile and easy to use," said Ann. "In many recipes — including cheesecakes, cookies, pancakes, and baked oatmeal — you can replace the milk with egg nog to create a dish with just a hint of holiday flavor."
The recipes will be released on Ann's blog, FountainAvenueKitchen.com, and on Turkey Hill Dairy's Facebook Page throughout December. The first creation is a recipe for Holiday Caramel Sauce that uses egg nog to create a topping that's ideal for ice cream or as a dip.
Turkey Hill Dairy Egg Nog is the top-selling brand of egg nog throughout much of the northeast United States. The drink, along with Turkey Hill's Limited Edition Premium Egg Nog Ice Cream, is available at select grocers and convenience stores where Turkey Hill products are sold.
Holiday Caramel Sauce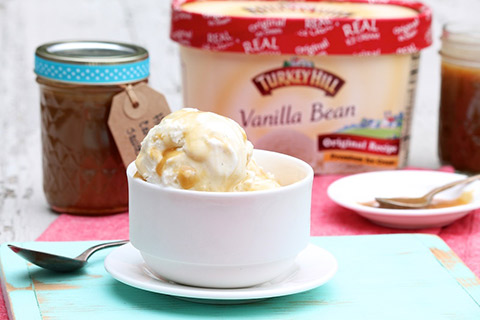 Ingredients
1/2 cup Turkey Hill Dairy Egg Nog drink
1/4 cup butter
1 cup lightly packed light brown sugar
2 teaspoons vanilla extract
1/4 teaspoon kosher or sea salt
Directions
Chop the butter into four pieces. Add the butter and all of the remaining ingredients to a medium saucepan set over medium-low heat, whisking or stirring the whole time. After seven minutes, remove from heat. Sauce will thicken as it cools. Serve warm or cool completely for storage in a jar.
# # #