Because giant cows make people smile.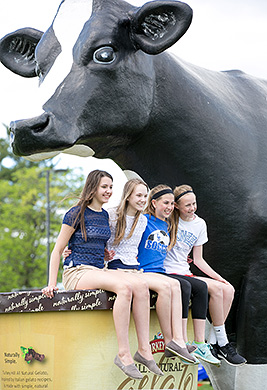 One of life's little-known facts is that a giant cow can make people smile. So, at Turkey Hill, we decided three cows would be better than one. They are all 13-foot, 2-ton cows that show up at community events. This way, we can create three times as many smiles. One of our giant cows was designed by a fan and two are Holstein Cows that look like traditional dairy cows — black and white — but just a little bigger.
You might even win a visit from a Giant Cow for your birthday party.
Check and see if one of our giant cows will be in your area soon.
QuickChek New Jersey Festival of Ballooning
7/29/2016 - 7/31/2016
Solberg-Hunterdon Airport
39 Thor Solberg Road, Readington , NJ
Try our favorite Turkey Hill Drinks! We be sampling a variety of Turkey Hill Iced Teas and Lemonades.
WITF Ready Set Go Kindergarten
8/6/2016
Public Media Center
4801 Lindle Rd, Harrisburg, PA, 17111
Try a sample of Turkey Hill Milk and learn about the health benefits of drinking it!
Middletown Grange Fair
8/17/2016 - 8/21/2016
Middletown Grange Fairgrounds
576 Penns Park Road, Wrightstown, PA
New York State Fair
8/25/2016 - 9/5/2016
581 State Fair Blvd, Syracuse, NY