Because giant cows make people smile.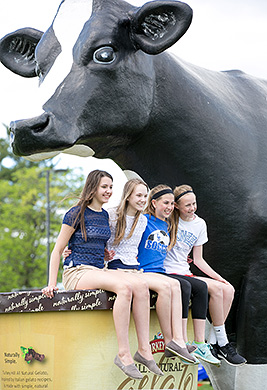 One of life's little-known facts is that a giant cow can make people smile. So, at Turkey Hill, we decided three cows would be better than one. They are all 13-foot, 2-ton cows that show up at community events. This way, we can create three times as many smiles. One of our giant cows was designed by a fan and two are Holstein Cows that look like traditional dairy cows — black and white — but just a little bigger.
You might even win a visit from a Giant Cow for your birthday party.
Check and see if one of our giant cows will be in your area soon.
Dutch-Way Farm Market
4/24/2018 - 4/29/2018
365 PA Route 41
Gap, PA
Stop by for some good eats and good treats at Dutch-Way and snap a photo with our Giant Cow!
Pallet Grocery Outlet
4/28/2018 - 5/6/2018
2018 Rockland Rd, Mifflintown, PA
As you're stocking up your fridge or buying flowers for a beautiful garden, stop by to say hi to our Giant Cow!
George's Market
5/2/2018
Dreshertown Plaza
1650 Limekiln Pike , Dresher, PA
Stop by the Dreshertown Plaza and check out our Giant Cow!
Turkey Hill Country Classic
5/5/2018
Central Manor Church of God
387 Penn St, Washington Boro, PA
The 19th Annual Country Classic will have running and cycling events, and fun for the entire family!