Because giant cows make people smile.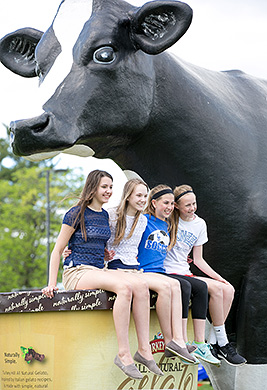 One of life's little-known facts is that a giant cow can make people smile. So, at Turkey Hill, we decided three cows would be better than one. They are all 13-foot, 2-ton cows that show up at community events. This way, we can create three times as many smiles. One of our giant cows was designed by a fan and two are Holstein Cows that look like traditional dairy cows — black and white — but just a little bigger.
You might even win a visit from a Giant Cow for your birthday party.
Check and see if one of our giant cows will be in your area soon.
Cedar Knolls Shoprite
6/24/2017
Shoprite
178 East Hanover Avenue, Cedar Knolls, NJ, 07927
Stop by Shoprite to see the Giant Cow and to try a sample of our Haymakers iced tea and punch!
Shop n' Save Westmoreland County Air Show
6/24/2017 - 6/25/2017
Arnold Palmer Regional Airport
148 Aviation Lane, Latrobe, PA, 15650
Tickets are still available for the Westmoreland County Airshow! The Giant Cow will be attending!
Dundalk Heritage Fair
6/30/2017 - 7/2/2017
Dundalk Heritage Fair
2717 Playfield Street, Dundalk, MD, 21222
The fair will open at 4PM on Friday, and will open on Saturday and Sunday at 12PM! Activities and attractions include a three-day fair, the largest parade in Maryland, a fireworks show, our Giant Cow, and samples of our All Natural Ice Cream!
Burlington County Farm Fair
7/18/2017 - 7/22/2017
1990 Jacksonville-Jobstown Road, Columbus, NJ, 08022
The Burlington County Farm Fair is fun for the whole family! While you're there, keep your eyes peeled for the Giant Cow!