Because giant cows make people smile.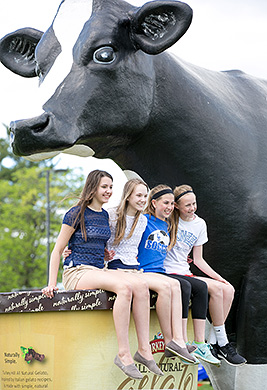 One of life's little-known facts is that a giant cow can make people smile. So, at Turkey Hill, we decided three cows would be better than one. They are all 13-foot, 2-ton cows that show up at community events. This way, we can create three times as many smiles. One of our giant cows was designed by a fan and two are Holstein Cows that look like traditional dairy cows — black and white — but just a little bigger.
You might even win a visit from a Giant Cow for your birthday party.
Check and see if one of our giant cows will be in your area soon.
National Night Out
8/1/2017
Leisure Lanes
3440 Columbia Ave, Lancaster, PA, 17603
Celebrate community, reconnect with friends, try a sample of our All Natural Ice Cream, and see the Giant Cow!
Family Fun Fest at United Sports
8/2/2017
United Sports Complex
1426 Marshallton Thorndale Road, West Bradford Township, PA, 19335
Stop by to Famoly Fun Fest for games, prizes, food, and more! The Brandwine Valley SPCA will be there with a handful of their adorable adoptables! Disclaimer: the Giant Cow is not available for adoption at this time.
West Bradford Township
PA