Because giant cows make people smile.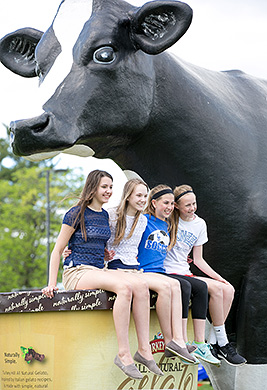 One of life's little-known facts is that a giant cow can make people smile. So, at Turkey Hill, we decided three cows would be better than one. They are all 13-foot, 2-ton cows that show up at community events. This way, we can create three times as many smiles. One of our giant cows was designed by a fan and two are Holstein Cows that look like traditional dairy cows — black and white — but just a little bigger.
You might even win a visit from a Giant Cow for your birthday party.
Check and see if one of our giant cows will be in your area soon.
Bridgewater Foods Christmas Parade
12/10/2016
Bridgewater, VA
Come see our Giant Cow stroll through the streets of Bridgewater!
Pennsylvania Farm Show
1/7/2017 - 1/14/2017
Pennsylvania Farm Show Complex & Expo Center
2300 N Cameron St, Harrisburg, PA
Stop by our stand in the Weis Expo Hall to sample thirst-quenching Haymakers drinks and All Natural Ice Cream!