Lemonade Tea
Our famous iced tea blended with lemonade.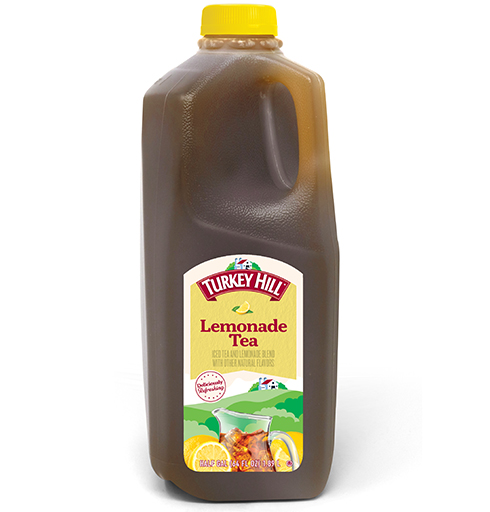 About This Item

All Natural Flavor

Contains 3% Fruit Juice

Gluten-Free

Sourcing

The water used in our drinks produced at our Conestoga, PA facility comes directly from artesian wells located at the bottom of Turkey Hill.

Product Handling

These simple pointers will help you to keep your Turkey Hill drinks delicious from start to finish:

At the store, check the sell-by-date and make sure the bottle is not round or bloated.
Keep your refrigerator temperature between 36°F and 38°F.
Try to use your drinks within 2 weeks from the day you first open the container.
Make sure to cap the container tightly and return it to refrigeration as soon as possible.
Shake Turkey Hill drinks well before pouring.
Nutrition Facts
Servings Per Container About 5
Serving Size
12 fl oz (355 mL)
Amount Per Serving
Calories 140
Total Carbohydrates 36g 13%
*The % Daily Value tells you how much a nutrient in a serving of food contributes to a daily diet. 2,000 calories a day is used for general nutrition advice.
Additional Info: Gluten-Free, Fat-Free
Ingredients: WATER, HIGH FRUCTOSE CORN SYRUP, SUGAR, CONCENTRATED FRUIT JUICES (LEMON, ORANGE), TEA, CITRIC ACID, ACACIA GUM, ASCORBIC ACID, NATURAL FLAVORS, SODIUM CITRATE, POTASSIUM SORBATE & SODIUM BENZOATE, BETA CAROTENE
Acacia Gum
Solidified sap known as "gum" from the acacia tree used to enhance the texture of a food or drink.
Ascorbic Acid
More commonly known as Vitamin C, ascorbic acid occurs naturally in some vegetables and in citrus fruits. In foods and beverages it can be used as a flavor enhancer, to add Vitamin C content, or for its natural preservative qualities.
Beta Carotene
A natural substance derived from plants, often used in food and drinks to enhance color because of its strong orange/red color. Humans convert beta carotene to Vitamin A.
Sodium Citrate
The sodium salt of citric acid used in foods and drinks as a flavor-enhancer or preservative.
Potassium Sorbate & Sodium Benzoate
A common food grade blend used to maintain shelf life and preserve freshness in foods and drinks.
Concentrated Fruit Juices (Lemon, Orange)
Produced by removing the excess water from crushed or juiced fruits to create a specific flavor.
Citric Acid
An acid derived from citrus fruits to enhance flavor and preserve food. Used as either a flavor or preservative in some food and drink.