Butter Almond & Chocolate
Vanilla ice cream with roasted almonds and chocolate ice cream.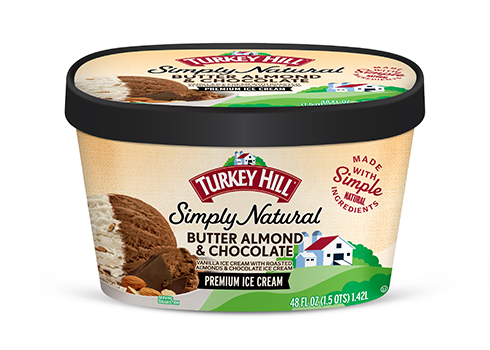 Retired Flavor
Nutrition Facts
Servings Per Container 9
Serving Size
2/3 cup (94g)
Amount Per Serving
Calories 220
Total Carbohydrates 23g 8%
*The % Daily Value tells you how much a nutrient in a serving of food contributes to a daily diet. 2,000 calories a day is used for general nutrition advice.
May Contain: DESPITE OUR BEST EFFORTS, THIS COULD CONTAIN SMALL BITS OF NUT SHELLS SINCE IT IS MADE WITH REAL NUTS.
Additional Info: Gluten-Free
Butter
Dairy product made from churning cream into a solid. Used as an ingredient in many baked goods that may be used as inclusions in ice cream as part of a flavor profile.
Roasted Almonds
Almonds that have roasted to create a desired flavor and crunchiness quality. Used in some ice creams as part of the flavor profile.
Cocoa
A chocolate powder made from roasted  and ground cacao seeds. Used as an ingredient in some chocolate flavored products.
Nonfat Milk
The thin milk left when whole milk is separated from its fats. Also referred to as skim milk.