Vanilla Bean
Vanilla light ice cream made with a blend of fine all natural vanillas and dusted with vanilla bean specks.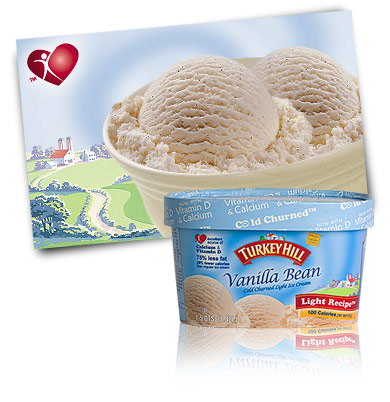 Available in 48 oz.
Nutrition Facts

Serving Size 1/2 cup (61 g)
Servings Per Container 12


Amount Per Serving

Calories 100
Calories from Fat 20

% Daily Value
Total Fat
2g
3%
Saturated Fat
1.5g
8%
Trans Fat
0g
Cholesterol
5mg
2%
Sodium
55mg
2%
Total Carbohydrates
17g
6%
Dietary Fiber
1g
4%
Sugars
13g
Protein
2g
4%
Vitamin A
10%
Vitamin C
0%
Vitamin D
25%
Iron
0%
Calcium
25%

Caffeine:

0 mg to 0 mg

Ingredients:

MILK, SUGAR, CORN SYRUP, NONFAT MILK, WHEY, CREAM, MALTODEXTRIN, CELLULOSE GEL, POLYDEXTROSE, CALCIUM CARBONATE, PROPYLENE GLYCOL MONOESTERS, GUAR GUM, MONO & DIGLYCERIDES, CELLULOSE GUM, POLYSORBATE 80, CARRAGEENAN, NATURAL AND ARTIFICIAL FLAVORS, VANILLA BEAN, VITAMIN A, VITAMIN D3.

Contains:

MILK.

Additional Info:

Gluten-Free

Caffeine-Free,

75% less fat and 29% fewer calories than regular ice cream. Fat was reduced from 8g to 2g. Calories reduced from 140 to 100. Excellent source of calcium and Vitamin D. Naturally and Artificially Flavored.
Explore all the great Light Ice Cream flavors from
Turkey Hill